Yesterday was like most of the other days in January with the
relentless rain
here in Vancouver. Even the girls whom I tutor told me their dad wants to move to Phoenix because he's tired of this stuff. I had to laugh because if you know their dad, you know it was a joke to some extent. The way they said it just made me fall over laughing. We are all really tired of this rain.
But this morning, the local news was reporting sun! So I had to check out a few of the web cams just to prove to myself it actually was happening.
My favorite site
has a good amount of information on Vancouver weather and a wonderful webcam pic always.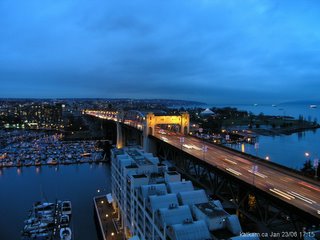 This photo courtesy
KatKam
which has a sophisticated system and takes wonderful pics of the Burrard Street Bridge into Kitsilano. There are many links to the
Vancouver Mainland weather cams
too. I just had to post a second one of our sunny morning.
My Favorite Area which I still have yet to visit is
Point Roberts
, known to some as Point Dick. Giggles. This area is actually owned by the US but you have to be in Canada in order to get to it. Point Roberts is one of the funny border issues when the US got control of the area. Check out the Point Roberts link because it has a live
webstream
.
The last photo is from West Vancouver.